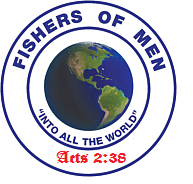 Dear Friend's ,
Welcome to the Fishers of Men Ministries homepage.
We are JESUS NAME Evangelistic ministry, focused on the healing and Restoration of the body of Christ in the Nations, as well as the restoration of Families, and Marriages around the World.

It is also our calling by the LORD JESUS CHRIST, to bring HIS People out of the Babylonian lies, that many in the body of Christ are caught in through believing Lies, and false teachings based in Catholicism.
The LORD says, COME OUT OF HER MY PEOPLE lest you share in her sins. Rev. 18:4
Who is JESUS talking about? He is talking about the Mother of Harlots, and her religious System overseen by the false prophet, also called the Pope.
Fishers of Men Ministries,
is a World wide Evangelistic, healing, and restoration ministry of Evangelist Hans and Sister Astrid Brandt. We travel the nations, to see people healed and restored, to the fullness of who JESUS has called them to be. We also License and Ordain FREE Evangelists
within the body of Christ, so that they can preach the WORD not being bound to man's organisational Dogma. We started thi ministry, together with Rev. Bill Cheeseman in 1994 in Ibor City Florida.
Sadly Bro. Bill Cheeseman went home to the LORD in 1999 however we know that he is a part of our great cloud of wittnesses.
Love and Blessings, in Yeshua
Hans and Sister Astrid Brandt