About Evangelist Hans and Astrid Brandt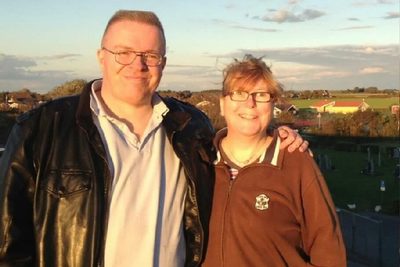 Evangelist Hans and Sister Astrid Brandt,
have been in Ministry since 1992, when the LORD radically gave them a Saul / Paul conversion expirience from Hans being one of Germany's leading Nationalist Party leaders to transforming him into a Pentecostal Minister 3 years later after Bible School in Clearwater Florida.
After Bible School Hans served as Project pastor with "Church without walls" in Tampa Florida for a while, then as assistant Pastor to the Cathedral Chapel under Dr. Ray Brubaker from God's News Behind the News, eventually the LORD took him to Paso Robles California for two years where Hans served as Assistant Pastor at the North County Revival Center, until the LORD gave the Brandt's the Revilation of the Apostles Doctrine while Evangelizing in Germany in 1999.
From 1999 until 2005 the Brandt's then traveld the United States with their Children in a Motorhome fulltime from Coast to coast, bringing Churches everywhere the good news of the Apostles Doctrine, and Baptizing new believers in JESUS NAME for the remission of Sins Acts 2:38 & John 3:5!
From 2005 until 2007 the Brandt's Pastored an Innercity Mission called GOD'S HOUSE where they housed the homeless, gave food to all who were hungry, took care of single moms, and their Kids as well as poor families in Mississippi. They also worked with Drug Addicts and Alcoholics helping them get their lives restored through the power of GOD !
Finally from 2009 until today, the Brandt's have been Missionaries in India, Africa, and now Germany bringing the Message of Restoration, healing, and deliverance to the nations.
Hans was also Co-Founder and second presiding Bishop over the I.C.O.F. also known as the International Circle of Faith from 2000-2004. As well as Presiding Bishop and founder
of the I.C.O.A which is the International Church of Acts until 2008.
Now the LORD has called Evangelist Hans to Organize the Fishers of Men ministries International, with the Calling to restore healing and Unity to the Apostolic movement through healing and deliverance crusades and seminars. If your Church would be interested in having us for a Crusade or Seminar on healing and deliverance? Please feel free to use the contact form, and we will be in touch shortly!